Visiting Yogyakarta is not complete without going to Borobudur Temple, a spectacular historical and religious site in Indonesia. Visiting the temple provides you with unrivalled experience of a tour, which combines history, nature, spirituality, and culture. Borobudur sunrise tour is increasingly popular, since the air is fresh and the view is spectacular at down. You will be amazed by the scene and the beautiful birdsong that surrounds you.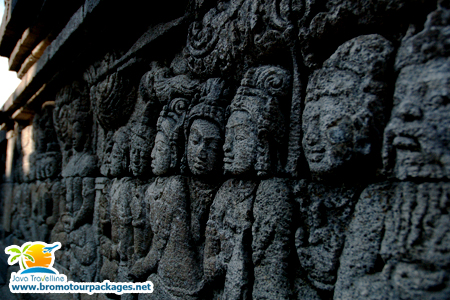 Borobudur Temple was re-found in 1814 after being lost to world's sight for almost 500 years.
Actually, the purpose of the temple is still unclear, but the history notes that it was a shrine to Lord Buddha.
It seems that the temple was abandoned in around the 14th century, after the decline of Buddhist and Hindu kingdoms in Java Island.
At that time, there was a massive conversion to Islam.
When it was sparked by Sir Thomas Stamford Raffles in 1814, the temple was completely covered by deep layer of volcanic ash. Yes, Mount Merapi, an active volcano in Central Java, stands not far away from the temple complex. The Government of Indonesia has restored the temple and now maintains it as one of the most visited cultural and spiritual sites in the country.
Borobudur Sunrise Tour: Basic Package
Borobudur is best seen from the height during the sunrise time. When the mist begins to lift, the full views of stone relief, faces of Buddha, terraced fields, and surrounding volcanoes will amaze you. To enjoy the emotion invoking view, you will need to take a private tour package specially design to take you to the desired site and the right time.
Basic tour package to enjoy the amazing view of Borobudur Temple is the choice when it comes to Borobudur sunrise tour price. This package ensures that you arrive at the right spot before regular public open time. This time, the air is fresh and the surrounding view is still amazingly misty. The group usually arrives at the viewing spot at approximately 04.30 a.m. Therefore, this is also called a dawn tour package. The following are general facts about the basic tour package:
The tour length is commonly 5 to 6 hours. The tour does not include a night stay around Borobudur.
The group departs from Yogyakarta at 3.30 am
At normal conditions, it takes about 1 hour of driving from Yogyakarta to the 8th century Buddhist Temple.
When arriving at the temple complex, you can find a comfortable place to sit while waiting for the sun to rise. Find one where you can enjoy the serene and spiritual atmosphere around the temple. The travelers usually have 1 to one and a half hour to explore the temple.
Breakfast/ morning coffee break
Of course, it is too pitied if you just enjoy the view without exploring other interesting objects and activities around Borobudur Temple. Therefore, most travel agents offer Borobudur sunrise tour plus activities, which you can select based on your preferences. As this is a private tour package, you are actually free to make a choice.
Borobudur Sunrise Tour plus Package
Get the ultimate experience of exploring Borobudur Temple by enjoying other objects and attractions within the temple complex or in the surrounding areas. Make sure to include one or more of them in the itinerary of Borobudur sunrise tour from Yogyakarta. Here are the options:
Pawon and Mendut Temple
You can visit this object after finishing the tour around the complex of Borobudur Temple. They are usually excluded from the basic tour package price. Pawon temple is a Buddhist Temple, located between Borobudur and Mendut Temple. It is connected to the other two temples, as if they formed a straight line.
Meanwhile, as the name suggests, Mendut Temple is located in Mendut Village. It is also a Buddhist temple, which is situated about 3 Km away from Borobudur. Local people believe that there is a religious and spiritual relationship between the three temples.
In Javanese language, pawon means kitchen. Therefore, local people believe that Pawon Temple was used as a tomb or mortuary for a king in history. However, no information is available on who was entombed here. In the contemporary era, Buddhist people in Indonesia celebrated Vesak annual ritual by walking from Mendut to Borobudur by passing through Pawon Temple.
**Also this article: Borobudur Tour Package Price: Is it an Expensive tour?
Cycling Tour
Do not miss the beauty of villages around Borobudur Temple. You can take a tour and see the local people in a closer way by taking a cycling tour adventure. A number of beautiful villages, like Janan Village, Nglipoh Village, Kujon Village, Sabrangrowo Village, and Da'an village are waiting for you with their unique attractions. For instance:
Janan Village has a traditional market, where you can buy fresh fruits or local foods;
Sabrangrowo Village has an ancient lake
In Da'an Village, you can see brick home industry
Kujon Village takes to the small path of Dagi Hill;
Nglipoh Village allows you to see the pottery-making home industry as well as black magnet making practice, and many more
Of course, an hour and a half cycling tour is enough for you to explore the beautiful villages around Borobudur Temple. You can get more interesting experiences and knowledge while keeping your body healthy by taking a cycling tour. (Also Read This: Yogyakarta Local Tour)
Candirejo Village Tour by Bike or Andong
Candirejo is a tourist village, which is located about 2,5 km away from Borobudur Temple. If you have enough time, you can arrange a night stay in a house in the village. Yes, many travelers do it intentionally. A day tour to Borobudur Temple still allows you to explore the tourist village by taking a cycling tour tor taking andong (a traditional horse-driven cart). You can explore and learn many things in the village, such as local arts and traditions, home industries like pottery making, and the local wisdom.
Of course, you can combine the Borobudur Sunrise Tour with additional activities and visits to popular objects around Borobudur or in Central Java. You can even set the tour to include a sunset view in Prambanan Temple, Yogyakarta. You can check the available tour packages or arrange your custom tour packages to see interesting tourist objects in Yogyakarta, Borobudur, and surrounding areas.