Banyuwangi to Ijen Tour
Banyuwangi is a super beautiful area with wonderful plantation and natural landscapes. People will get a totally different tour site compared to what they experience in Bali. Banyuwangi is always recommended for those who take Bali Tour. This is so due to its locations which is side by side on the map. Tourists can easily set a tour list or ask a package with Bali and Ijen tour.
It is easy to reach Banyuwangi from Bali with any kinds of transportation modes. People can even go to Banyuwangi by ferry boat and take public transportation to Ijen. Banyuwangi to Ijen tour is the dream tour for adventurers. Ijen tour price is affordable for all types of tourists. Ijen volcano tour from Bali is the best choice.
Banyuwangi is a pretty region in the tip of East Java. People can find various outdoor tour spots in this region. However, the prettiest area for trekking tour is Ijen Crater. For years and even centuries, Banyuwangi is a popular for its fertile soil and excellent plantation. People will love the region for its colonial traces in plantation and railways. Besides, the traditional villages of Banyuwangi are perfect place for trekkers. The Ijen Crater is an international destination of Blue Fire phenomenon. In addition, Ijen Crater is a wonderful site of the natural sulfur acid lake.
Banyuwangi to Ijen tour is not a mere outdoor tour but a tour with a moral. Tourists will be happy to enjoy Bali with its beaches and traditions. After that, Banyuwangi will show the tourists acculturation of several ethnics in east Java such. Those ethnics are Madurese, Balinese, and local Banyuwangi ethnic groups. Not to mention the rich cuisines and wonderful National Parks in this region.
Ijen Tour Price
Banyuwangi to Ijen tour is definitely a brilliant choice for a year end tour. People will love to spend a yearend holiday in this breathtaking area. Those who are arranging a year-end holiday can start consulting the package with the professional Ijen tour and travel agent. International travelers can book the tour through the online site. It will be better to use an experienced travel agency that specializes the services in Ijen tour. This is so because tourists need to make sure that they get the best hotels and drivers to help them enjoying the tour.
Banyuwangi to Ijen is only less than two hours from the Banyuwangi city center. However, those who take Bromo and Ijen tour should take several hours to reach each place from the starting point. The professional drivers and tour agents that tailor the perfect itinerary will make the tour just flawless. What about the price? Tourists can check the rates of Ijen tour through the online site. During high seasons such as December to January, people will need to pay higher rates because of the hotel reservation cost and others.
Compared to other outdoor tours in other destination countries, Ijen tour is relatively cheaper. However, tourists do not have to question the hotel rooms quality and services. The rates of Ijen in Java travelline are lower than the outdoor tours in Central Asia countries or East Asia countries. Yet, the services will be more than satisfying. The rates are different for the flight cost as well. Therefore, tourists have to plan their tour well to cut the cost. The right timing can also give the tourists more comfort. Travel agents will recommend the best time for avoiding rainy season and crowds.
**Also Read This Article: Mount Bromo Tour Package Price and Tips to Cut the Cost
Ijen Volcano Tour from Bali
Relaxing time in Bali will be over as tourists start to shop souvenirs. Tourists will leave the peaceful of Bali and feel that the holiday is done. But the journey will be extended with the Ijen Volcano Tour.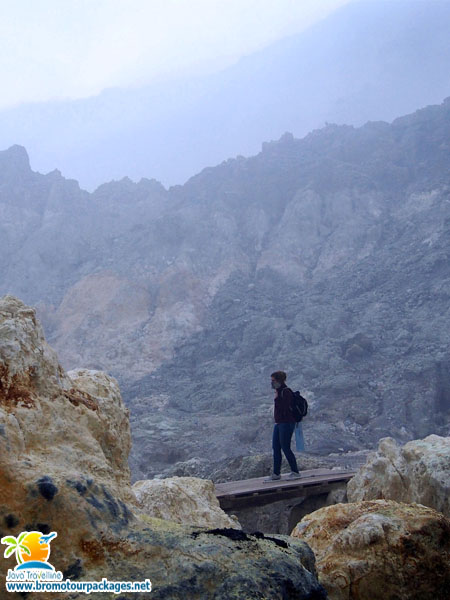 Tourists can take a flight from Bali to Banyuwangi. But if the travelers take a package of Bali and Ijen tour, the agent will serve a car to reach Ijen via ferry boat from Gilimanuk. Banyuwangi to Ijen tour is also possible. Tourists can book an Ijen tour from Banyuwangi. The driver will pick the clients from Banyuwangi to explore Ijen volcano.
Taking Banyuwangi to Ijen tour, the tourists need to get prepared with their physical conditions since the volcano tour requires a soft trekking. Besides, tourists have to be sure that they are prepared with the clothes. In most Bali tours, travelers will need to wear beach clothes and casual attire for the hot weather. Even when the tourists dine in a restaurant, they do not have to wear formal clothes in Bali. But Ijen tour requires a totally different clothes. They have to wear warm clothes because of the extreme weather on the volcano.
Besides comfortable trekking shoes and clothes, tourists need to be ready with masks. The tours will have option to provide an oxygen tank for tourist having breathing problem. In the middle of a tour to hunt the Blue Fire, tourists might face a strong wind with thick sulfur smells and substance. The struggle might be a little challenging. Yet, the beauty of Ijen crater, the sulfur lake, and Blue Fire of Ijen will pay it off.
**Also Read This Article: Malang City Tour Package: Detail Itinerary and Rates
The Exotic of Banyuwangi and Ijen
Banyuwangi to Ijen tour is a popular destination that is recommended by Indonesia tourism authority and most traveling magazines. Visit Indonesia campaign places the Ijen tour as one of the best outdoor tours in East Java. People will love the pure beauty of the volcano. After that, the tourists can extend the trip to the National Park of Baluran in which tourists can see wildlife of Javanese exotic animals and birds. The green peafowls and red junglefowls live in the real habitat in the forest.
Banyuwangi to Ijen tour will be one of the tours that last. The tourists will love the way its natural landscape serves them the prettiest sunrise. Besides, the turquoise lake will leave a dramatic impressions. Ijen tour will be a flawless choice to compliment the Bali tour. The atmosphere of Banyuwangi and Ijen can help people to get refreshed and ready to work hard after the holiday is completed. Talk to the trusted travel agent to secure your journey from Banyuwangi to Ijen now.